A.

Strengths and Weaknesses of Cordoba
In the 10th century, Cordoba was the capital of Islamic Spain and the largest, most cultured city in Western Europe. During the apogee of the caliphate in 1000 AD Córdoba had a population of about 500,000 inhabitants — almost 200,000 more than today.
The symbol of this lost splendour is the mesmerising Mezquita, a masterpiece of Islamic architecture.
The most remarkable feature of the Mezquita are the 856 columns, with its soaring terracotta-and-white striped arches. After the Reconquista in the 16th century a cathedral was plonked right in the middle of the mosque by the Christians.
Everything in Cordoba is relatively close and the beautiful Unesco-enlisted historic centre can be easily explored by foot.
Scoring quiet high in most categories and boasting a very appealing climate most of the year (not during July/August) leads to a well deserved top 50 rank in our list.
Cordoba no real flaw, but it's not a great shopping destination.
B.

Best Things to Do in Cordoba

(Detailed List with Photos and Information)
These sights and attractions contribute to a sights score of 6.85/10.
Jewish Quarter (Juderia) 5
Córdoba's scenic old Jewish quarter with its whitewashed lanes and flower-decorated patios, small museums, restaurants, bars and artisan and silversmiths shops is a lovely area to just wander around.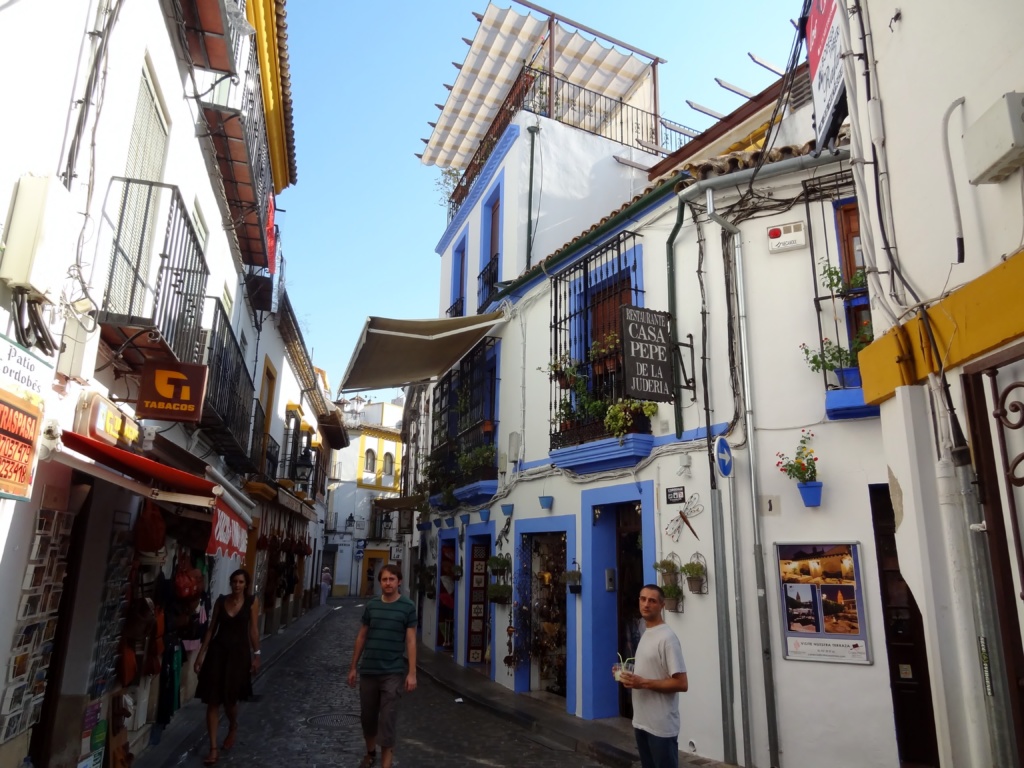 Archaeological Ensemble of Medina Azahara (Madinat Al-Zahra) 5
What you'll see today — only around 10% of Medina Azahara (literal meaning "the shining city") have been excavated and restored — is a pale version of the former glory of this once majestic site, located 8 km west of Córdoba.
Medina Azahara (constructed in in 936-940, sacked in a civil war in 1010) housed around 12,000 people and included ceremonial reception halls, mosques, administrative and government offices, wide-ranging gardens, residences and luxurious baths. The site and the interesting modern museum nearby can be reached by regularly operating buses.
Ruins of a Moorish palace-city
#1 by Roberto Chamoso G / CC BY-SA 3.0
#2 by Sombradeparra / Public domain
D.

Best Day Trips and Excursions from Cordoba
SEVILLE (city, 140 km from Cordoba, 42 min by train) 7
E.

Top 10 List of the Best Things to Do in Cordoba

(including close-by excursions)