A.

Strengths and Weaknesses of Vienna
As a city of traditions with a famous musical legacy and a population of more than 1.8 million, Vienna has played a prominent role in world culture.
Reminders of the city's illustrious past are everywhere from the world heritage listed Historic Centre, the Imperial Palace (Hofburg) itself to the palaces of Belvedere and Schönbrunn.
Vienna is known for its very high quality of life topping several lists for the world's most livable cities.
Cosmopolitan Vienna scores rather high in almost all of the categories.
This consistency leads to a remarkable high rank in our study.
Vienna is expensive.
B.

Best Things to Do in Vienna

(Detailed List with Photos and Information)
These sights and attractions contribute to a sights score of 7.20/10.
Kunsthistorisches Museum (Museum of Art History) 7
Considered one of the great art museums of Europe Vienna's Museum of Art History houses the outstanding former private collection of the of the Imperial family in a splendid purpose built building lavishly decorated with marble, stucco ornamentations, gold-leaf.
Visitors can marvel at the famous Salt Cellar sculpture by Benvenuto Cellini as well as world-class paintings by Jacques-Louis David ("Napoleon Crossing the Alps"), Pieter Bruegel the Elder ("The [Great] Tower of Babel", "The Hunters in the Snow"), Caravaggio ("The Crowning with Thorns", "David with the Head of Goliath"), Raphael ("Madonna del prato"), or Vermeer ("The Art of Painting").
#2 by Pieter Bruegel the Elder / Public Domain
#3 by Benvenuto Cellini (Jerzy Strzelecki) / CC BY-SA 3.0
STEPHANSDOM (St. Stephen's Cathedral) 7
This majestic Gothic cathedral marks the very heart of Vienna's historic centre.
Climb the 343 steps to the top of the South Tower (or use the elevator to reach the lookout terrace at the North Tower) for wonderful views over the whole city.
Cathedral (World Heritage Site since 2001)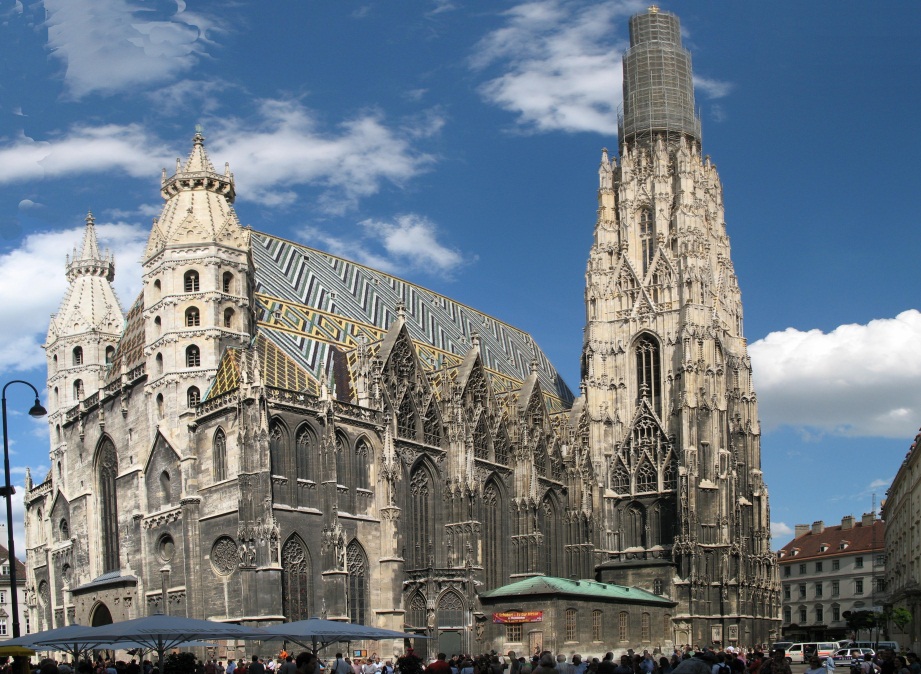 by Andrew Bossi / CC BY-SA 2.5
E.

Top 10 List of the Best Things to Do in Vienna

(including close-by excursions)